History
---
Unimed S.A. is a swiss company active in the biomedical engineering field. We produce on demand a large number of medical needles and instruments for the medical, pharmalogical and laboratory fields and have become experts contract manufacturer in the shaping of stainless steel tubes.
---
Our Origins
The company's origins date back to 1936, when Pierre-Jean Guisan, son of a medical doctor and nephew of the famous swiss General Guisan, founded the company P.-J Guisan S.A and started the manufacturing of hypodermic needles for medical doctors and dentists in Lausanne.
In 1943, Mr. Guisan wanted to acquire the know-how of the drawing process used to produce stainless steel tubes. In order to do so, he founded a company named Microtubes.
In 1944, a company named Wander, bought 50% of both P.-J. Guisan S.A. and Microtubes S.A.
In 1946, M.Künzli, who was in charge of the medical activities of Wander, conducted a MBO. He founded Intramed and bought back the shares of Wander. He rapidly developed a vast number of products based on the syringes and medical needles. Unfortunately, the sales did not follow.
In 1950, the company entered into liquidation and was entirely bought by a company named Socorex. Following this acquisition, Socorex oriented the production towards syringes and medical needles, which became worldwide renown.
In 1954, Socorex's management decided to sell the hypodermic needles and syringes activities through a MBO conducted by two executives; Mr. Hertig and Mr. Karl Schoenholzer. The newly associates changed the company name into Socorex Medical Instruments, while the activities and manufacturing facilities remained unchanged. At that time, 80% of the manufactured needles and syringes were exported.
---
Unimed's creation
In 1958, the associates separate. Mr. Hertig is taking over the syringe activity and changes the company name; Socorex Instruments Médicaux becomes Socorex-Isba. Mr. Schoenholzer creates Unimed S.A. and is taking over the medical needles activity.
Under his leadership, Unimed S.A. developed the catalogue of medical needles proposed to the healthcare professionals and reinforces its activities regarding surgical suture needles, which started in 1951 with Socorex, as well as veterinary needles that integrates and complements the catalogue. By that time, the needles made by Unimed are sold in more than 70 countries.
In 1981, the son of Karl Schoenholzer, Mr. Patrick Schoenholzer joins the company. In the late 1980s, the fears regarding AIDS virus will lead to a rapid decline of the sales of reusable medical products. The activity of the company has to be reconsidered.
The whole range of the products produced until that time are considered as standard products from the field. It is decided to start a new activity by using the company's know-how in the field of stainless steel tube working and shaping. This new activity has major impacts for Unimed, that not only is a manufacturer, but also becomes a contract manufacturer for new clients in the fields of medical device, pharmaceutical or laboratories.
Today, Unimed possesses more than 1'500 active customers, spread across more than 70 countries. The customized products have become the main activity of the company and Unimed a strategic partner to answer technical, logistical and economical imperatives of each product manufactured for a world-renown clientele.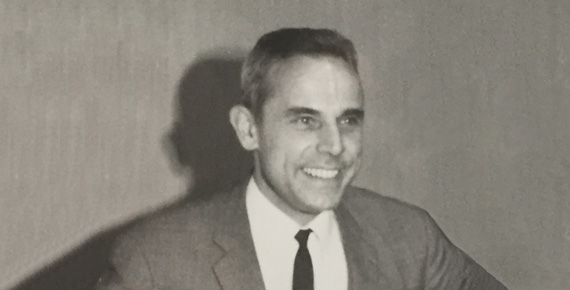 Karl Schoenholzer - Founder of Unimed, 1958
Chronology
July 2022
The company and its headquarter move to the commune of Ecublens in a state-of-the-art facility with a total area of 5'500m2.
November 2020
The regulatory environment having become too heavy and the role of manufacturer of CE marked products having become marginal for the company, Unimed decides to stop supplying its own products intended for human medicine and to keep only its range of veterinary products.
November 2017
Eric Schoenholzer takes over the company's activities and continues to focus on contract manufacturing, which has become the company's core business.
January 2016
Unimed produces more than 5'000 customised products, exported in more than 70 countries, and its active client portfolio has more than 1'500 customers in the medical and pharmaceutical fields.
October 1997
Unimed has been certified according to ISO 13485 and 9001 for the production of medical and veterinary needles, connectors & stopcocks, surgical suture needles and for the customization and shaping of stainless steel tubing as well as other metals.
January 1988
Patrick Schoenholzer takes over the management of the company and orients it toward customized products and stainless steel tube shaping of medical precision
March 1958
Karl Schoenholzer founded Unimed by taking over the activities concerning medical needles from Socorex.
July 1950
Socorex SA acquires Intramed SA.
May 1943
The company Wander acquires PJGuisan SA and regroups its activity under the company name Intramed SA.
March 1936
Pierre-Jean Guisan, nephew of the famous General Henri Guisan, founded PJGuisan SA and started the manufacturing of hypodermic medical needles.
Key Figures
200
Highly qualified personnel
5'500
m² state-of-the-art manufacturing facility in Lausanne, Switzerland
5'500
Customized products
550'000
Meters of stock tubing and wire
Our Strengths

One face to the customer 
A single contact person will assist you along the the manufacturing processs, and handle your commercial as well as technical or regulatory requests. Out technico-commercial team speaks fluently german, english, french and spanish and will answer your questions and requests in a timerly manner. Do not hesitate to contact us.

Flexibility
Our size and diversifed production apparatus allows us to rapidly adapt to your needs and produce in tight deadline

Customised solutions
With more than 5'000 customized products manufactured over the last decades, Unimed has acquired an important experience in the machining and shaping of stainless steel cannulas and has become a strategic partner for your corresponding needs.

Accelerated production start
With more than 550'000 meters of raw material in stock, we are able to start the production right away to allow for important lead time reduction.

Just in Time
Upon request, Unimed may hold a stock of finished products on site and deliver it worldwide within few days.