Blunt ends
A blunt end represents the most simple cannulas end. It results from a clean and precise cut. Blunt ends are often associated with reduced cylindrical tip for liquid pipetting and sampling probes.
We are able to cut the tube or wire in pieces of length varying between 0.2 and 2'000 [mm] and may guarantee, upon request, a tolerance of ± 0,02 [mm]. Our standard tolerances however are as follows;
± 0,5 [mm] for lengths up to 300 [mm]
±  1 mm for lengths longer than 300 [mm].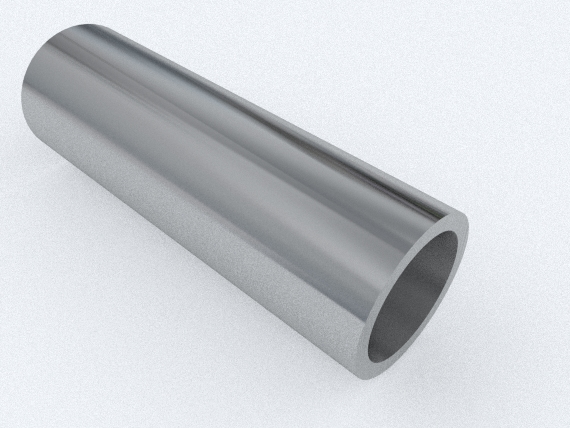 A.1 Blunt end – square cut
Our standard cutting and deburring process slightly takes the sharpness off the cutting edge, resulting in an slightly radiused edge of about R 0.02 mm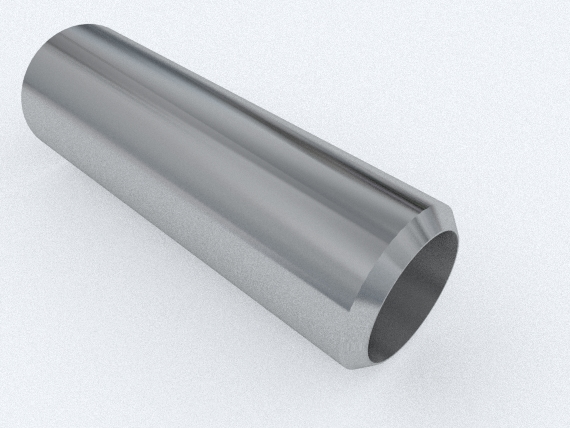 A.2 Blunt end – chamfered edge
If not otherwise specified, we propose a standard angle of about 45°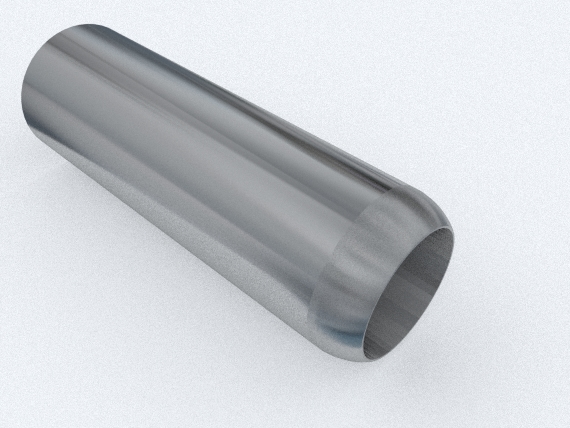 A.3 Blunt end – rounded edge
The edges will be radiused at min R 0.5 x wall thickness for tubing and min R 0.15 x diameter for wire, unless otherwise specified.
Conical ends
With the most advanced grinding and controlled deformation techniques, Unimed is able to offer you the conical tips shown below. The conical ends may be obtained:
by grinding, removing some material, and thus reducing the wall thickness (A.4 & A.5)
by reducing, through deformation, keeping the wall thickness constant. (B.2.2)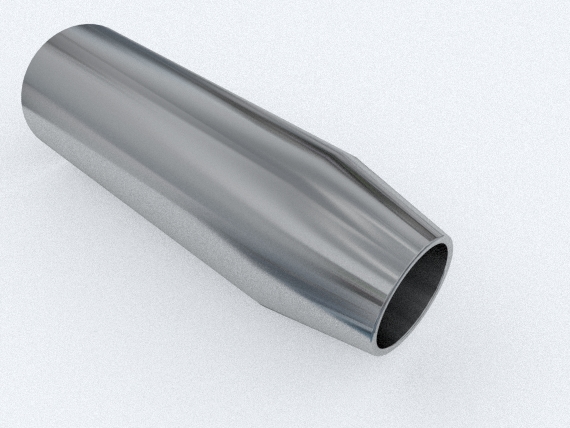 A.4 Blunt end – conical (tapered)
This will leave a small portion of the tube wall (not a sharp edge).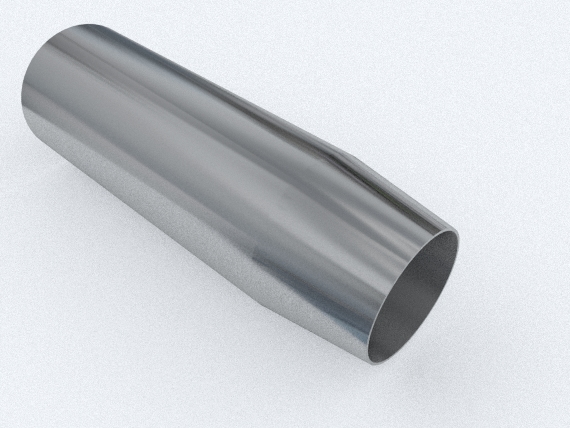 A.5 Conical end with sharp edge
To achieve the cutting edge we propose a standard grinding angle of about 20°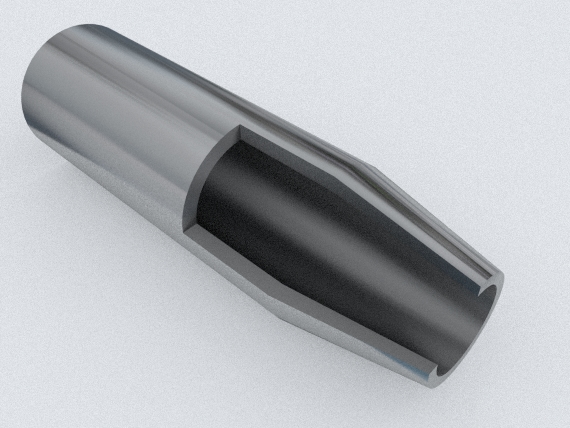 B.2.2 Tapered Open Tip
Various tip angles and lengths can be proposed, with a calibrated cylindrical opening when required.
Common points
The common points shown below are the most commonly found on the market. As a specialized contract manufacturer of medical needles and sampling probes, Unimed may offer and grind, according to your specifications, each of the geometries shown below: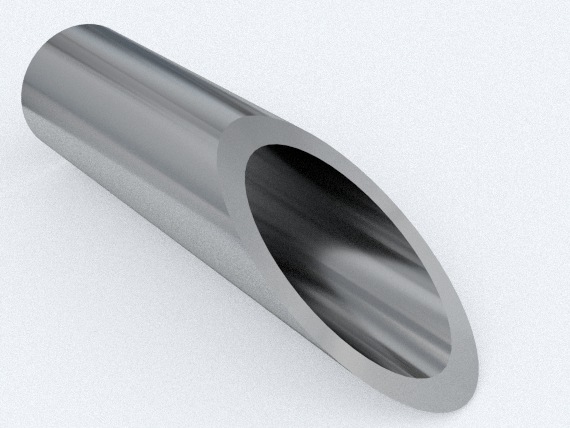 A.6 Flat bevel point
Can be ground at any required angle.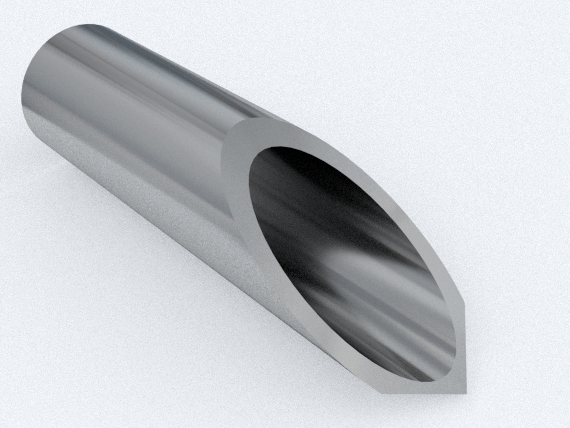 A.7 Back-cut bevel point
Results in a very sharp point. Is particularly indicated for needles with matched stylet.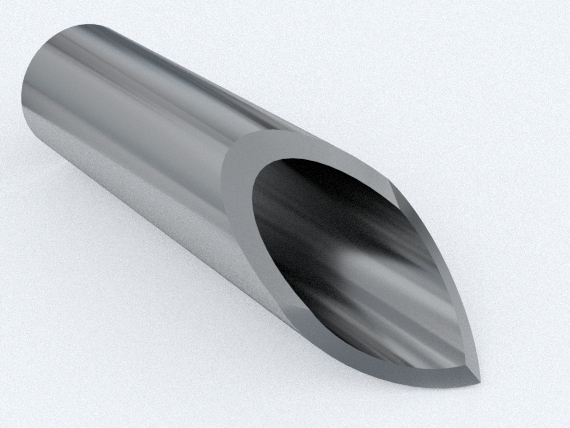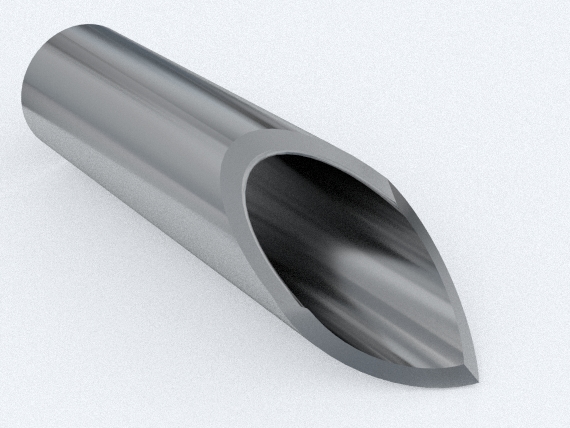 A.9 Non-coring bevel
In order to reduce the effect of coring the tissue or material during penetration, the heel of the bevel is blunted by grit blasting. This anti-coring treatment can be applied to any type of bevel.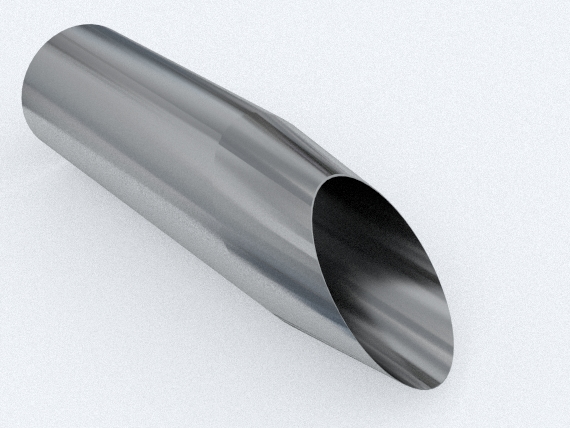 A.10 Biopsy point with sharp edge
Suitable for obtaining soft tissue or other material, by coring.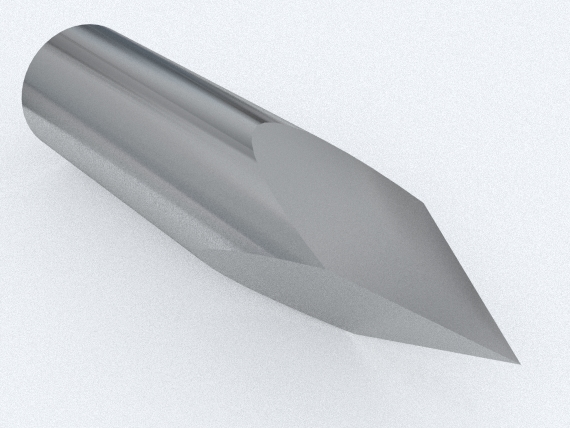 A.12 Trocar point
Can be made on tube or solid wire, very sharp to ensure easy penetration.
Special tips
In addition to the common points, Unimed has highly diversified its production apparatus and technologies in order to be able to manufacture, to your needs, the most complex and less usual ends geometries as follows;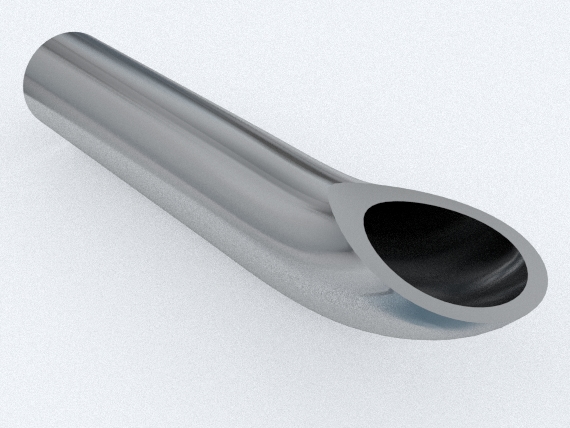 A.11 Deflected point
Also called Septum or Huber point, eliminates the coring effect.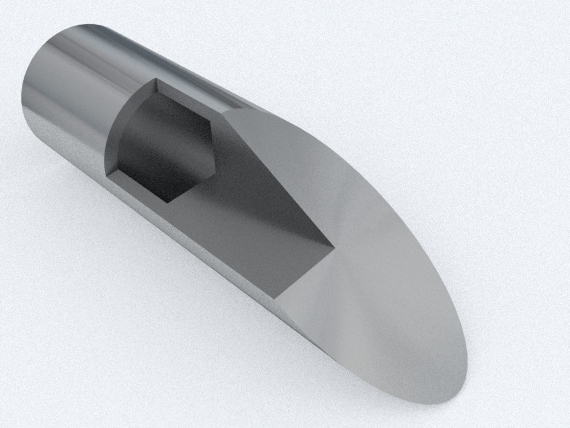 A.13 Solid bevel point
On tube or solid wire, flat or with back bevels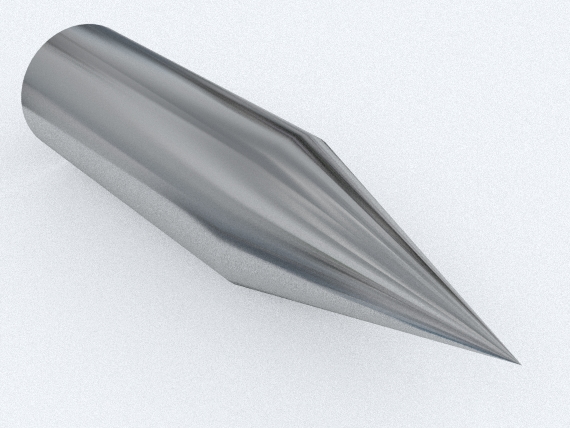 A.14 Closed pencil point
This point is ideal for piercing without coring. It can be provided with single or through holes if required. Can be supplied with sharp point or with radiused tip. If not otherwise specified, we propose a conical tip with a half-angle of 10 to 15°.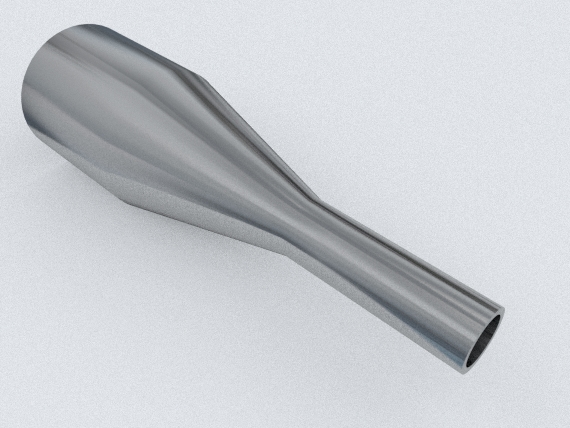 B.2.1 Reduced Cylindrical Tip
Often used in liquid handling applications, tip openings can be as small as 0.1 mm with a standard precision of as tight as +/- 0.02 mm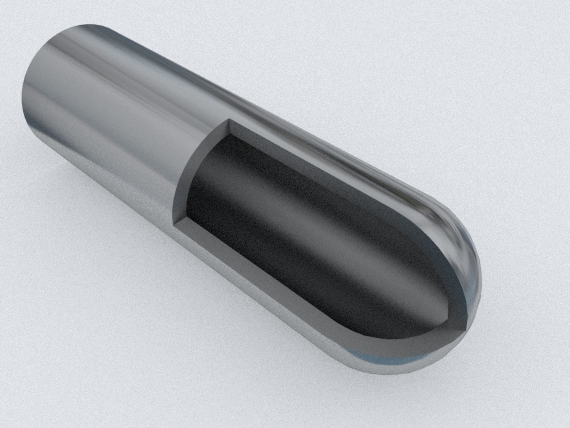 B.2.3 Spherical Tip
Tube ends can be partly or fully closed, either with constant wall thickness (hollow end) or with tubing end filled inside.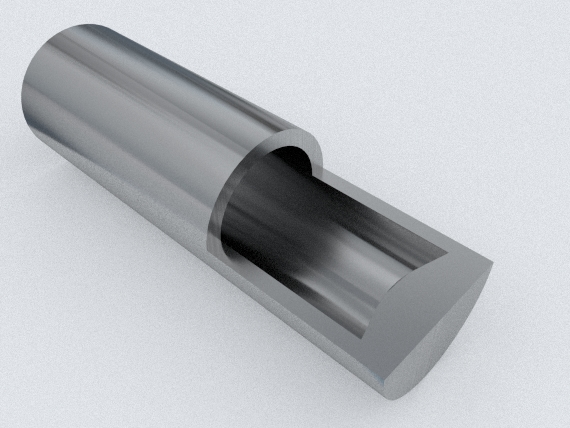 B.2.4 Flat Tip
Fully or partly closed tube end can be flat, with our without corner radius.
B.3.1 Normal Flare End
We can also provide Set Flare Ends with a specific conical configuration, for sealing, when the cone has to fit into a corresponding matching part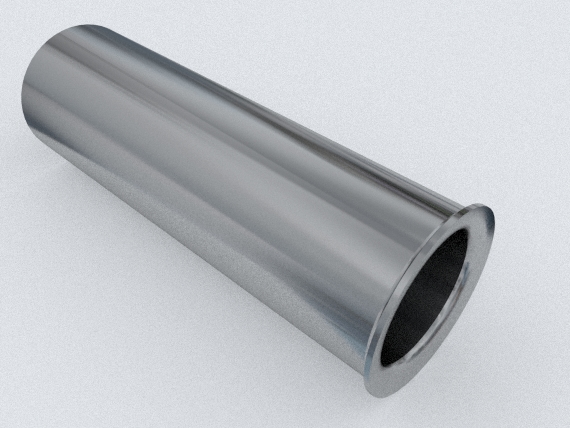 B.3.2 Flanged End
90° flanged tubes create a relatively accurate OD stop, e.g for insertion into another tube or part. Allow for a radius of about 0.2 mm under the flange.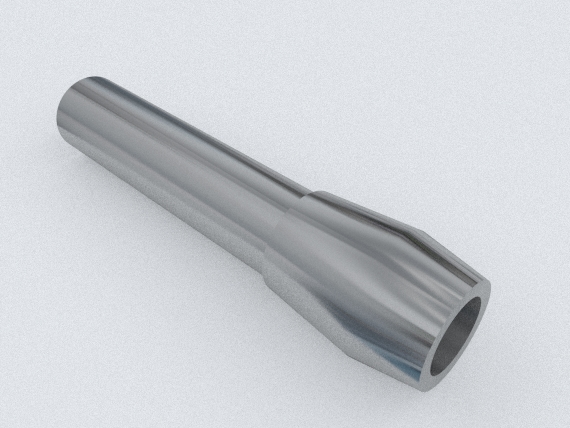 B.4.3 Bulbous Tube End (Olive Tip)
B.5 Flattening
Tubular parts can be supplied with one end, or indeed any location, flattened. The flattened section can be on the center line of the tube, or offset. The resulting flat width and thickness are relative to the tubing size. Flats can be provided with pierced holes.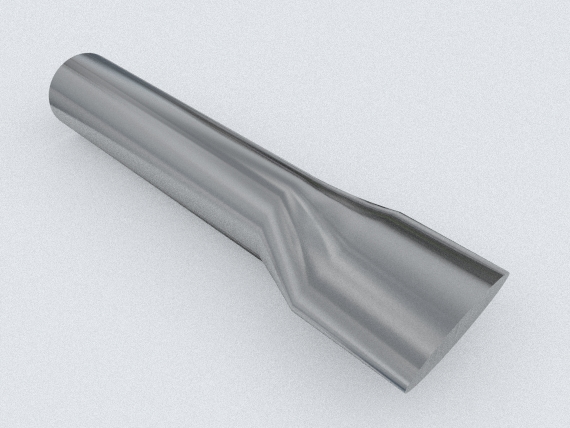 B.5.1 Flattened tube end
Centered